Born with a hole in his heart, Kelvin nearly didn't survive open heart surgery at just seven years old. Here is his story in his own words.
I was born in 1960 in London in the UK, eight weeks premature and with a hole in my heart.
My earliest memories are at the age of three years being taken to Great Ormond Street Hospital and hooked up to what I now realise was an ECG (electrocardiogram) machine while lying in a cot.
During my early childhood, I could not run or do any exercise without getting out of breath, and I remember going to sleep at night listening to my heart making a droning noise, rather than the normal beating sound.
When I started school at age five, I had to sit out of PE lessons, not run in the playground and generally be very careful not to overexert myself.
I remember going on the London Underground to the National Heart Hospital to see the physician Jane Sommerville, who was one of the pioneers of early heart surgery and a member of the team who conducted the first heart transplant in the UK.
On one such consultation, my father was asked by the leading heart surgeon, Dr Ross, whether he and my mother agreed to me having heart surgery. Dr Ross explained to my father there was a risk that I would die during the surgery, but that if I didn't have it I would be in a wheelchair by the time I was 11 and would probably not make 18. On the other hand, if the operation worked, I would be able live a "normal" life.
My father, ever the Royal Marine, said, "Ask Kelvin – it's his life".
The surgeon said, "No, you will be asleep".
This sounded like a no-brainer to me – being able to run and play like my friends! So, at the age of six, I made the "easy" decision to have heart surgery.
This decision has given me great strength all through my life when faced with challenges, because if I could decide that, surely I can overcome anything!
The surgery had to be done before my heart grew too big, so it was decided that I would have it at age seven.

I remember going into hospital for tests, where a dye is pumped around your body while you are semi-conscious to identify the hole. The body is also put under some stress while under anaesthetic, to see if you are strong enough to undergo surgery.
Some months passed, with trips every month to the Heart Hospital for ECGs and X-rays, waiting in cold corridors, seeing lots of doctors in white coats saying words I didn't understand.
And then finally it was into hospital for surgery – my first time away from home, in a ward with other children and adults all awaiting surgery.
My surgery was scheduled for what turned out to be the day of the first heart transplant in the UK. As they took me down to the operating theatre in the lift, I remember my father saying that the transplant patient was returning up in the same lift after surgery.
After the surgery, I was visited by a surgeon who said I had made a "miraculous recovery", although I had no idea what that meant at the time.
Following the operation, I gradually became stronger over the years. My heart made a normal sound, and I could run and play. At the age of 15, I was discharged by the Heart Hospital, although I was told never to do any manual work.
Living on an estate where a very unreliable bus was the only form of transport to the local town, I started running the two miles there instead, or running between bus stops to try and beat the bus. I enjoyed running because it was something I could not do in my earlier years. At my secondary school, I was always in the first four finishing the road runs in PE.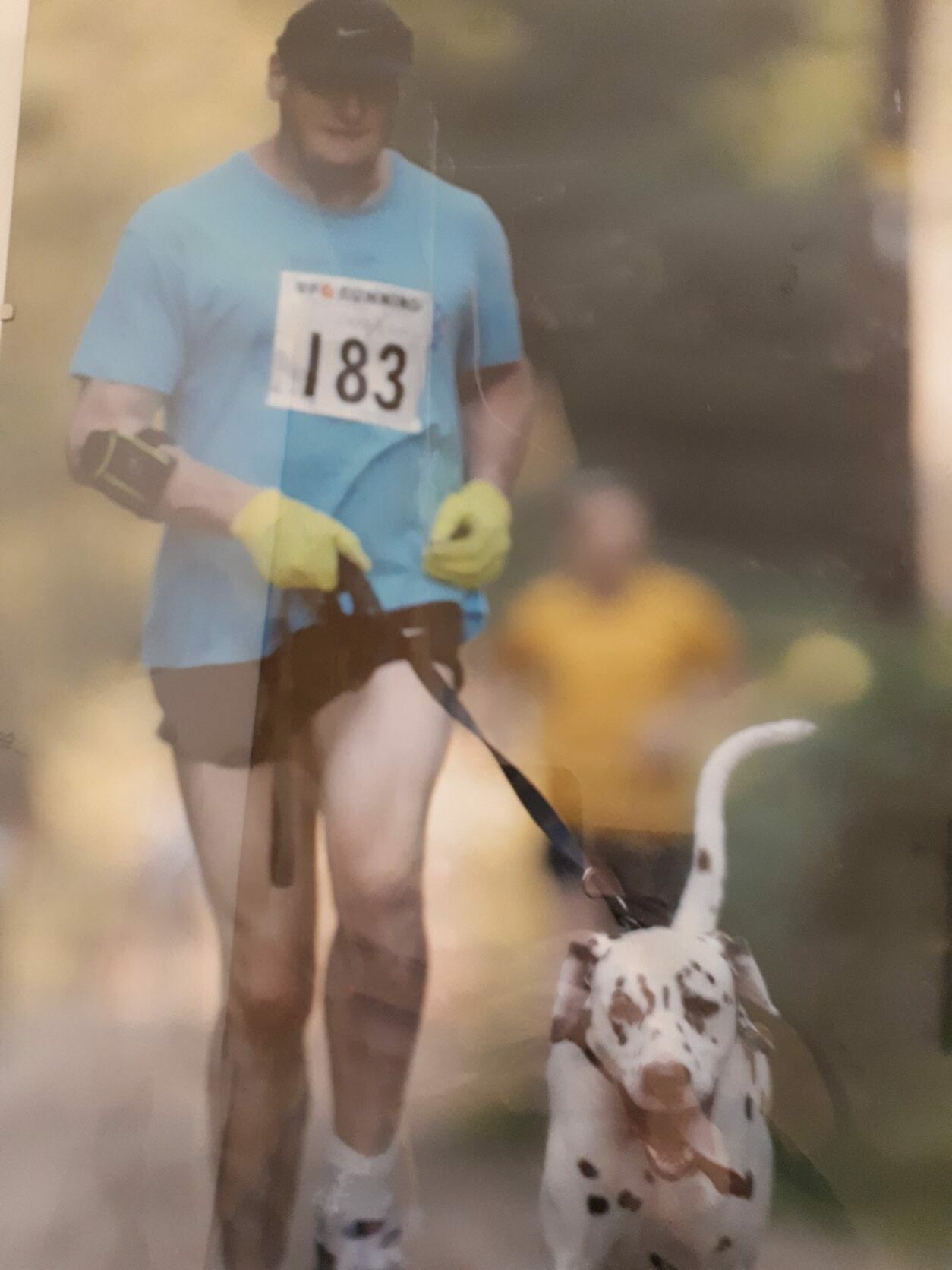 Kelvin still runs daily with his dogs

My 20s saw eight years of running the London Marathon for charity, with my best time being 3 hours 30 mins. I also obtained two black belts in karate.
Now aged 62, I have had some challenges along the way, including spinal surgery for a back injury, kidney stone removal, and now a diagnosis of rheumatoid arthritis that is luckily in remission. But I have lived a full life and continue to do so. I have been married for 39 years to my loving wife, Christina, and we have two children and three grandchildren. I always keep active, and I still run – I have two highly energetic Dalmatians and run with them at least a mile every night.
All this has been possible because I took the brave step at age six to have an operation to fix my heart. I have huge respect and gratitude to my late parents, my elder brother and sisters who helped to look after me when I was very young, the surgeons, nurses and all others involved in helping a small boy with a hole in his heart be able to live his life.
To anyone facing challenges, be brave, never give up and never stop trying. And always, look after your body.
How is HRI helping?
The Clinical Research Group is working on several exciting projects that will help to transform – and save – the lives of people with congenital heart disease (CHD).
With the Congenital Heart Alliance of Australia and New Zealand (CHAANZ), the Group is creating a CHD register to maximise the quality of life for CHD patients by providing the best of care for their life journey, by identifying deadly gaps in the healthcare system.
The Group is also conducting the world's first randomised controlled study into the benefits of exercise for people with CHD. This information will then be used to develop guidance that can be rolled out via hospitals and telehealth services – including to remote areas and Indigenous populations that are at higher risk of cardiovascular disease.
Stay updated on HRI's latest research and health tips: subscribe to our e-newsletter